OEFENCLUB Bridgeschool Zoetermeer
Bridgen is een leuke hobby die niet gauw verveeld. Deze hobby vergt echter een hoop vaardigheid. Daarom organiseert Bridgeclub Zoetermeer (BCZ) samen met Bridgeschool Zoetermeer oefenavonden en middagen voor hen die net van de cursus komen of lange tijd niet hebben gespeeld. Onder begeleiding van enthousiaste vrijwilligers wordt in een veilige omgeving de overstap tussen bridgecursus en bridgeclub vergemakkelijkt en zeker veraangenaamd. 
Bekijk hieronder de actuele bridge agenda met data van de leukste en gezelligste bridge- oefenclubmomenten. Want bridgen doe je bij Bridgeclub Zoetermeer!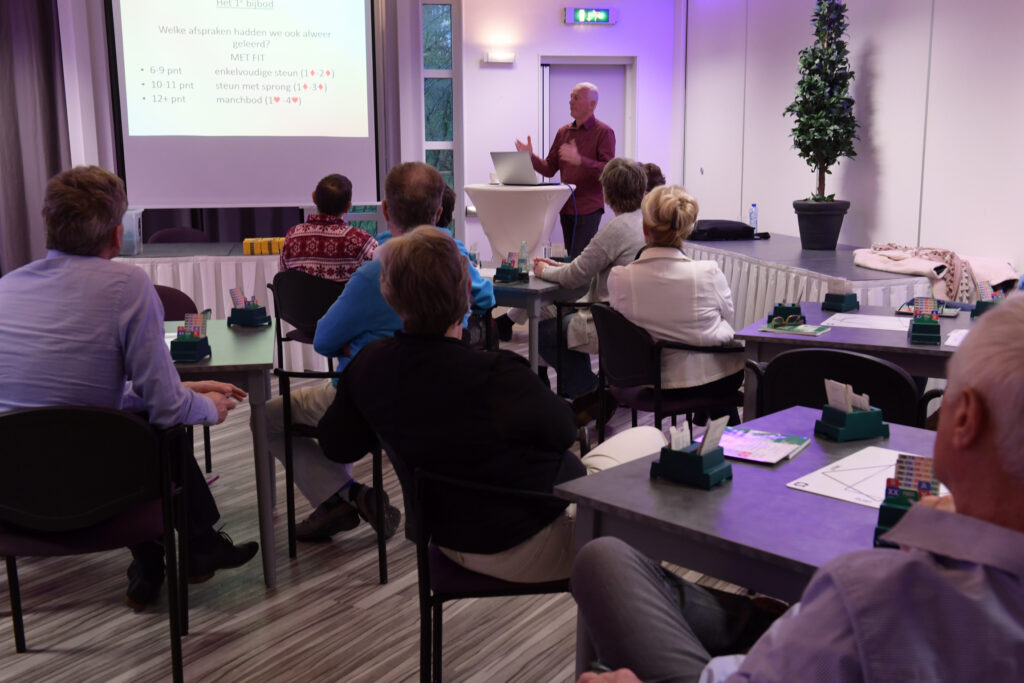 VAN BRIDGELES NAAR BRIDGECLUB
In samenwerking met Bridgeclub Zoetermeer
Nog even en dan zit je beginnerscursus bridge er al weer op!
En wat nu…?
Zoals met zoveel dingen ga je bridge pas echt leren in de praktijk. En dat is wel zo leuk; want dáárvoor heb je je natuurlijk door de theorie heen geworsteld. En nu gaan we dus eindelijk lekker bridgen. Bridgeschool Zoetermeer heeft daarom samen met Bridgeclub Zoetermeer een oefenlijntje opgezet binnen de  gezellige bridgeclub Zoetermeer.
Hier ga je onder begeleiding  van enthousiaste vrijwilligers bridgen.
Oefenclub:
Tijdens deze oefenmiddagen of avonden zullen er steeds 2 vrijwilligers van de club  zijn om je te helpen met bieden, uitkomen, afspelen, etc. Je zult zien dat naar mate de weken vorderen, het spelen steeds iets makkelijker gaat!
Na een cyclus van 10 weken kun je daarna lid worden van de club en in laagste lijn meespelen.  
Als organisatie zullen we er voor zorgen dat iedereen een partner heeft, indien je er geen hebt op betreffende middag of avond.
Kosten
De kosten voor deze oefenclub zijn € 25,00 p.p. of gratis wanneer je gelijktijdig de bridgecursus "bridge in een flits 2" volgt.
Data
Maandagavond 16 januari t/m maandagavond 20 maart 2023. Tijd: 19.30 uur – 22.45 uur.
Donderdagmiddag 20 april t/m 6 juli 2023. Tijd: 13.00 – 16.45 uur.