Workshops Bridgeschool Zoetermeer
workshop
Bridgeschool Zoetermeer biedt bridge workshops aan die gebaseerd zijn op één of meerdere thema's uit de bridgelessen van de beginners en gevorderden bridgecursus. Een workshop bestaat uit een stukje theorie en een stukje praktijk en duurt zo'n 2- 2,5 uur met in het midden een (koffie)pauze voor de deelnemers.
Iedere workshop is incidenteel en individueel te boeken.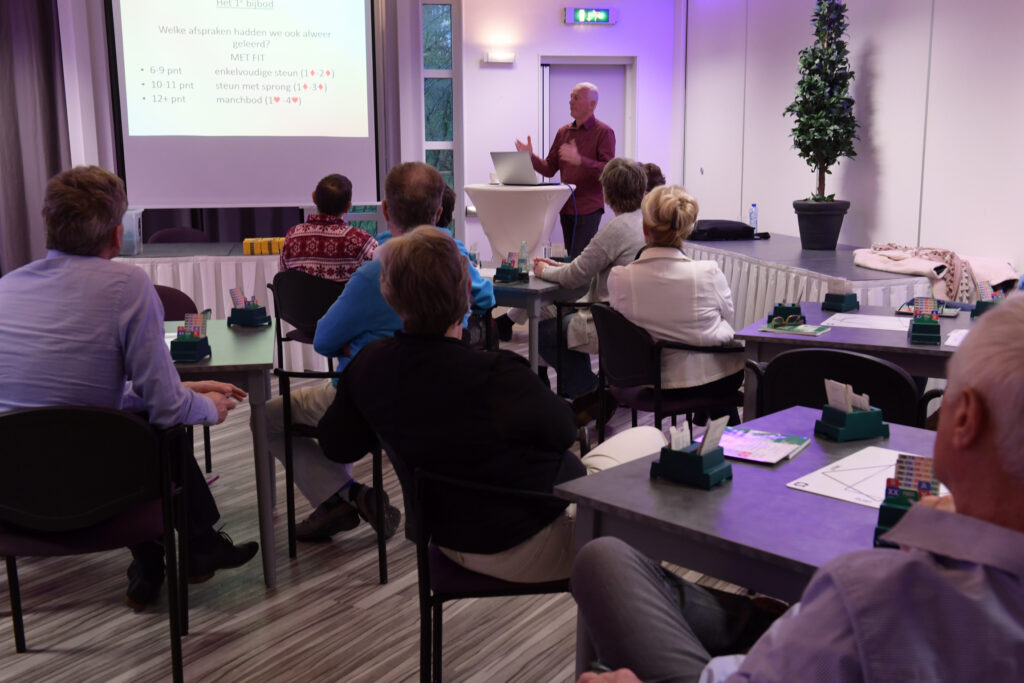 Speelplan in troef
workshop
Wat geldt voor SA geldt zeker ook voor troefcontracten. Je mogelijkheden zijn nog wat breder als je van te voren een goed speelplan maakt…
Vaak zal men als leider een SA-contract mogen spelen. Hartstikke leuk, vooral als men de kneepjes kent hoe deze contracten aan te pakken…
Wie zonder goede signalerings- afspraken tegenspeelt (en dus ook uitkomt), speelt tegen op goed geluk. Tegen spelen is al lastig genoeg, veel lastiger dan afspelen van een contract…
Het volgbod na een opening van de tegenspelers
Als je tegenspelers het bieden openen hebben zij een informatievoorsprong. Dat wil niet zeggen, dat je ze altijd maar probleemloos het contract moet laten spelen! Lastig zijn loont soms!
De strijd om de deelscore/ Het uitnemen van de bieding (down gaan en toch een top!)
Je kent dat misschien wel. De tegenspelers bieden en passen in een laag contract. Moeten we ze dat laten spelen of is er reden om zelf nog (bied)actie te ondernemen… Hoe zit het eigenlijk met de punten?
Wel of niet forcing & reverse bieden
Ja, en daar zit je dan…. Een nieuwe kleur op een volgend niveau bieden, forceert partner om door te gaan. Of toch niet…? Wat te doen, als je niet weet waar dat gaat eindigen?
Je ruikt slem. Als je gelijk azen gaat vragen, kom je misschien wel in klein slem. Maar ja, misschien zit er wel groot slem in. Je moet dan wel precies weten of je overal de baas in bent met partner…
Volgen na preëmptieve openingen
Mooie boel! Denk je te kunnen starten met een openingsbod en dan verschijnt net daarvoor je rechtertegenstander met zo'n hoog preëmtief bod. Kan ik mijn opening nog wel omzetten in een volgbod wat mijn partner verstaat?
Statistisch speelt men in 50% van de spellen tegen. Zo maar een kaart afgooien is niet zo slim. Met deze workshop leer je de kneepjes van slim tegenspel.